This article was published as an issue of my newsletter Ready for Rain
In talking to plant people, you hear the adage, in reference to planting ornamental plants:
"The first year they sleep, the second year they creep, the third year they leap."
It's a nice, medium-term way to think about the garden; one that teaches patience.
"…and on the third year, your gardening genius will finally be revealed!"
Two summers ago, just after moving in, I planted the garden with hope for the future. Just wait, I thought, in the summer of 2023, the garden will be bursting with color, fragrance, and life. I couldn't wait.
The summer of 2023 just passed and I'm not sure my hopefulness in 2021 was warranted.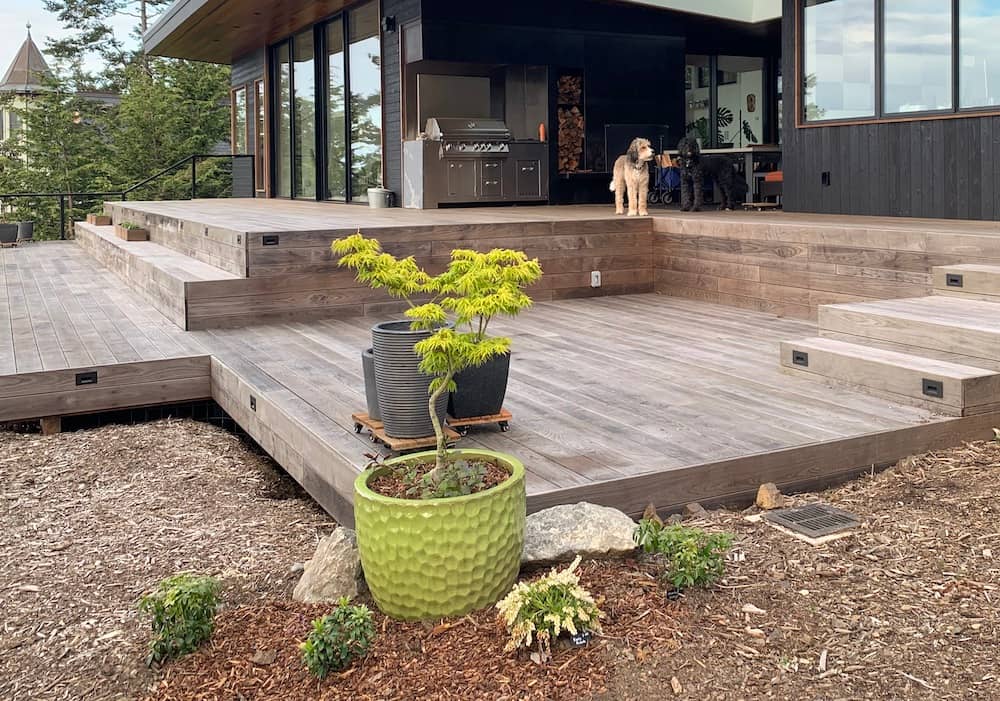 The second summer (2022) arrived and built my confidence. Most plants lived through the winter and crept into the summer, just as expected. Sections of the garden did well, like this huge dahlia.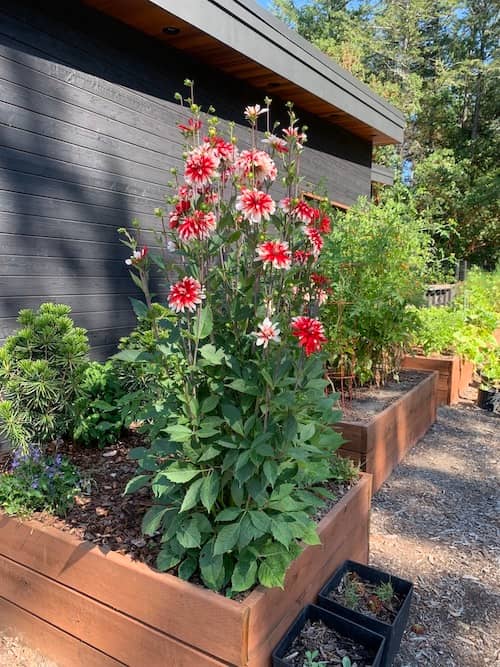 We built a new bed which I filled with trees and shrubs, along with a bunch of perennials.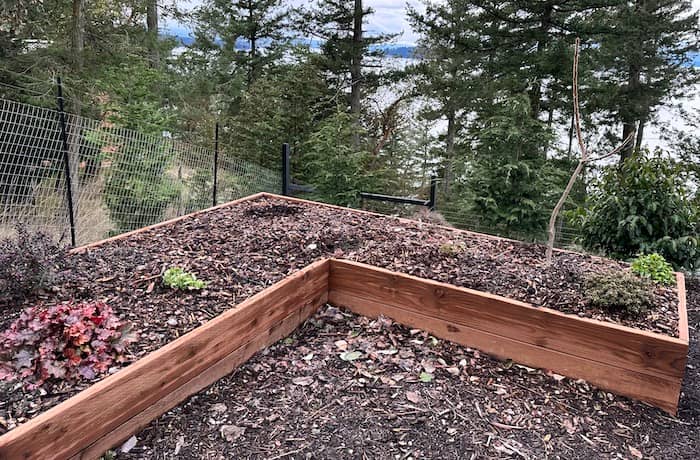 The process of choosing plant locations has always given me mild anxiety. How do I know where to plant them? What will they become in this location versus another one? Is this plant taking a spot away from a better one?
With a three-year plan in mind, I began to ask: Do I want these plants in these locations, for years?
An example is the boysenberries we planted along our fence. Over time, they become part of the fence and more permanent. I think we chose well with these two vines and should get berries next year. The plant in the middle is pineapple guava, one of the few tropical fruits you can grow outdoors in our region.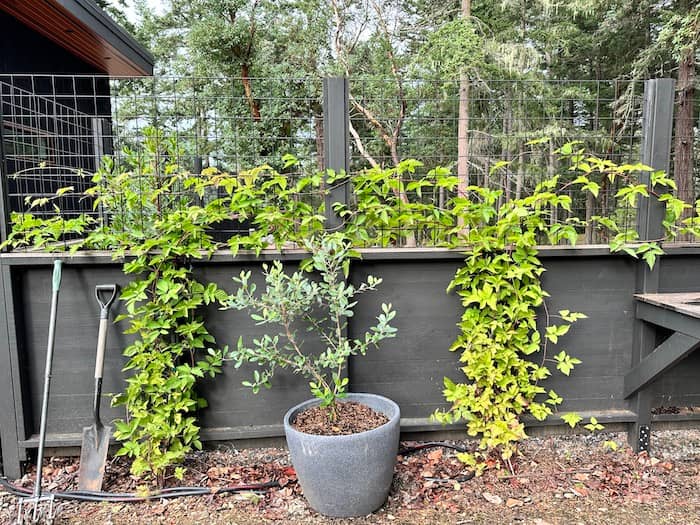 Another win is creeping thyme, which is starting to grow nicely over the rock wall.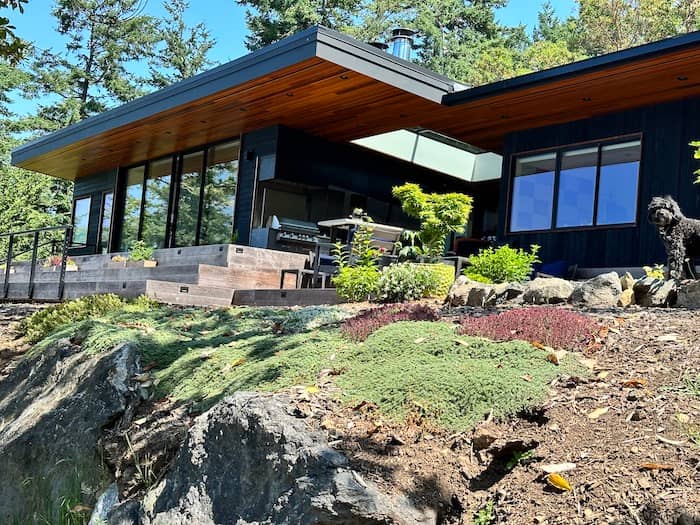 As I learned more about gardening and garden design, I realized that I wasn't locked in. I could experiment over time, and learn what works where. I could move sad plants and divide perennials I love. I could shake up everything. This was liberating and I started to see that the garden was always in flux.
Last fall I dug up 20+ Dahlia bulbs and overwintered them inside. I now know this isn't required, but I wanted to move them anyway. They did almost nothing this year. As of October 2, a total of one has bloomed.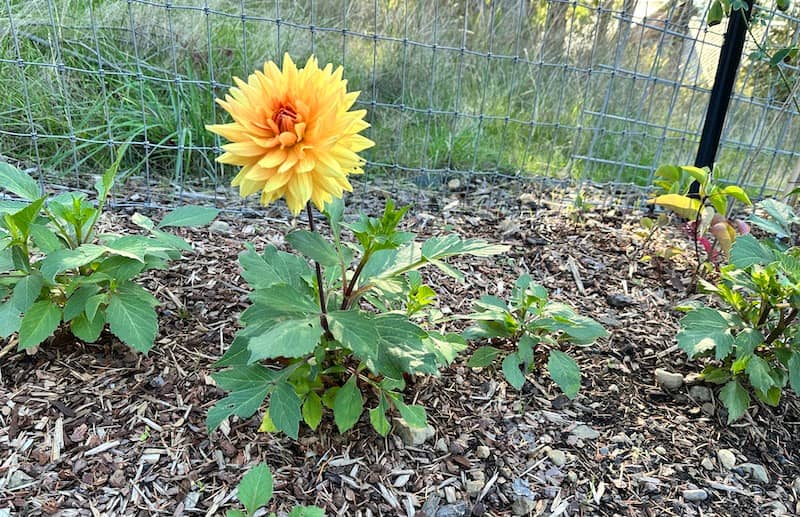 This "frost free" gardenia looked dead after a harsh winter. Today, it's starting to show signs of life and I'm claiming victory in its savior.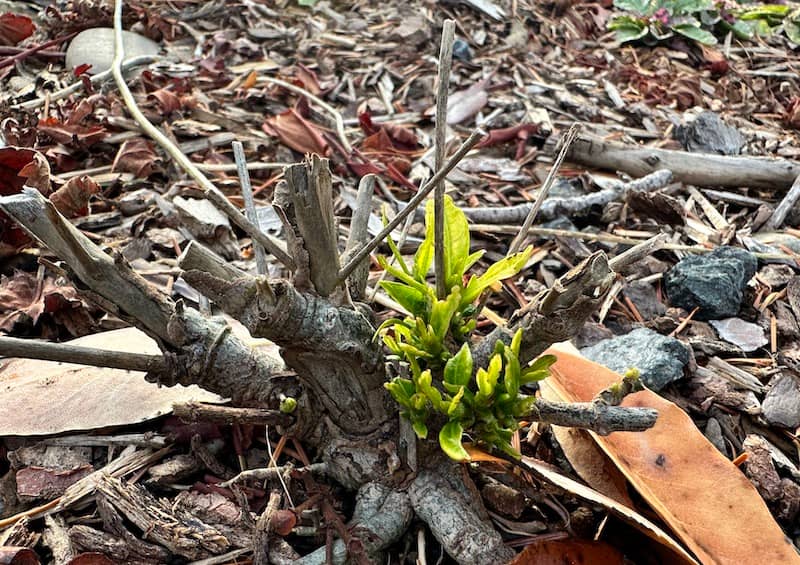 Bottom line: experience matters and you have to earn it. The person who made planting decisions in the first summer was a rookie and rookies should not be making three-year plans. But what could I do?
The 2021 garden was a chance to learn from mistakes. Perhaps gardening knowledge is simply a collection of lessons learned.
Year Three – A New Beginning
Here in year three, I should be able to finally start the three-year plan and stick to it. I was inspired to dig almost everything up and start over. Like many things, the more you learn about gardening, the more amateur you feel. I'm under no illusion that I know what I'm doing, or that I'm capable of pulling off the three-year plan. But I am going to try.
Over the last couple of weeks, I've formulated a plan. I created an overhead map of our property so I could sketch a design reflecting my accumulated knowledge to date. The red marks are new or moved plants.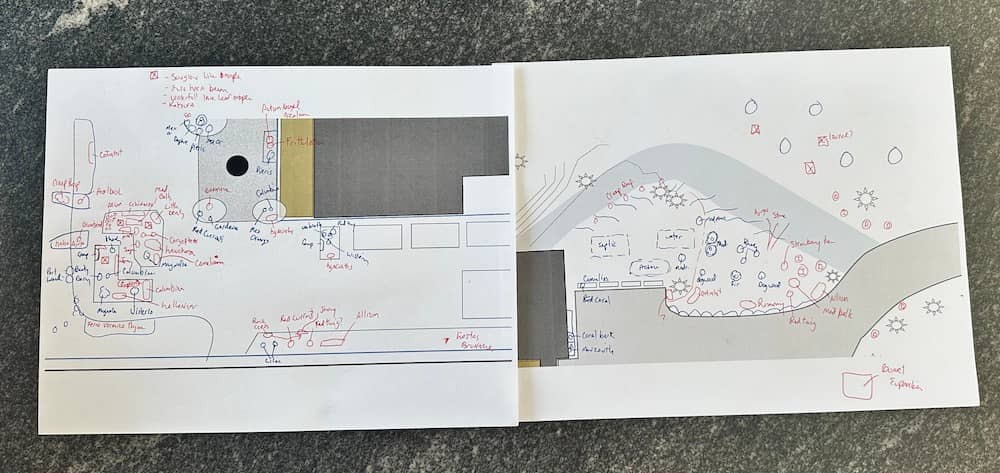 For the first time, this plan accounts for dividing perennials, planting some things I've propagated, and getting bulbs in the ground for the spring. Unlike the garden before, I'm thinking ahead about the overall design. This means planning ahead regarding height, color, spread, what blooms when, and for how long.
Finally, I'll plant things with a real three-year plan in mind. Then, in 2026: Camelot!
I want it to be so, but I am realistic. I have so much yet to learn. I fear that in 2026, I'll be saying "That 2023 dude was an idiot" and resolve to start the REAL three-year plan. Vive la 2029!?!?
You can see where this is headed. There is no end. There is no magical point where any garden is leaping all the time. Plants change constantly and sometimes mysteriously. There is always a new problem to solve or an idea to manifest. Maybe a leaping garden is more of an aspiration.
I'm already looking forward to the spring of 2024 so I can see the results of my planning and the start of what should be a longer-term experiment. If I keep saying, "Just wait until next year!" every year, I will be on the right track.
---
I Can Recommend
Speaking of gardening, I want to share a show and a few Instagram accounts that have taught me.
Gardener's World:
For over 50 years, the show Gardener's World has been a staple of British TV. Each episode has a mix of practical advice, visits to unique gardens, and an overall soothing British feel.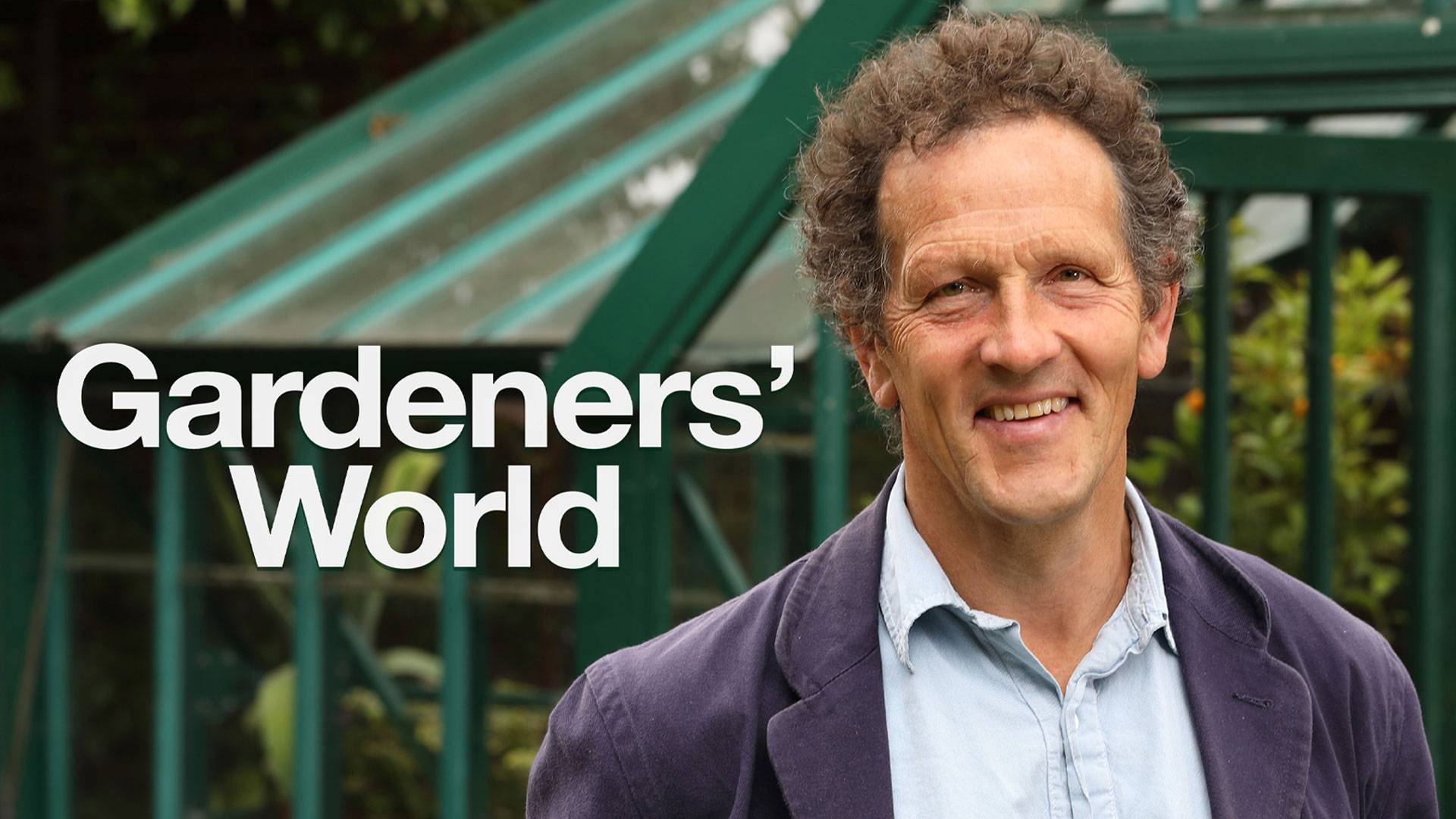 Monty Don is the long-time host (along with his golden retrievers) and I've come to be a big fan. It's the kind of show that you put on when you don't want to think too much. It's light, educational, and quite entertaining. It helps, too, that UK weather matches our own.
​Seasons 6 and 7​ are on Amazon Prime. Seasons ​7,8,9 are on Tubi​.
Instagram Accounts
​Dave The Plant Man​ is a constant source of useful and interesting posts about plants. He's so kind and charming.
​Nettles and Petals​ is an account by Jamie Walton, an extremely tattooed and experienced gardener who focuses on edibles and wild plants.
​Powers Plants ​posts frequent tips and observations about small home gardens and garden design.
​Branches and Leaves​ has taught me a lot about propagating shrubs and trees.
​You Can Do It Gardening​ – Jess is a garden coach who records herself consulting with clients. Great for design and how-to.
​Garden Mentors​ is by a local friend named Robyn Haglund. She doesn't post as often as the others but knows her stuff and teaches online classes for gardeners.